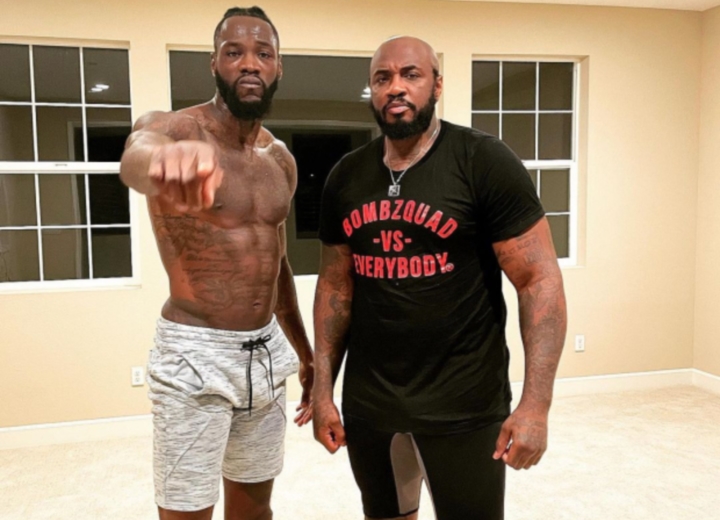 In an exclusive interview with Fair Betting Sites, Deontay Wilder's coach Malik Scott has claimed that Anthony Joshua can beat Tyson Fury in their much anticipated heavyweight title fight.
Deontay Wilder's trainer Malik Scott has insisted fans are 'crazy' to underestimate Anthony Joshua, as his highly-anticipated fight with Tyson Fury edges closer to completion.
A fight that has seemingly come out of the blue between the two British heavyweights has been making rapid progress over the past week.
It is set to take place on December 3 and Fury's team have initially offered Joshua a 60/40 split in favour of 'The Gypsy King', with a 50/50 split in the rematch should AJ win.
And Scott, who worked behind the scenes to train the 'Bronze Bomber' for his trilogy defeat to Fury, has revealed his thoughts on where the fight will be won and lost having witnessed the 'Gypsy King's' strength in the ring first hand.
You have to respect AJ for accepting any offer from Fury, he believes he can beat him
I think it's a great time for AJ to take the Fury fight. I still believe AJ is in a mindset that he has something to prove. He wants to get back up on the horse. He wants to go again. And Tyson and him have always wanted to fight each other. The big question, is it really going to happen? I mean, nowadays we're just in the place where there is so much business and people are so selfish and everyone wants to be greedy. But what I like the most and what you have to give AJ credit for is he said whatever deal that they're offering, I'll take. You have to respect that. Absolutely. He said whatever deal they offer me, I'll take. He believes he can beat Tyson Fury. I believe AJ believes he can beat Tyson Fury.
AJ can win this fight if he attacks Fury's foundational, positioning and vulnerable flaws
I really can't say [who wins]. I can't say because if you go off of the last fight, stylistically, Fury and Usyk have a different style. I can tell you who I would give the momentum to. You have to give the momentum to Tyson Fury. It's only right. Now if AJ is intelligent enough and is willing to be physical enough, he could throw a monkey wrench in that, if he's willing to attack Tyson Fury's flaws; foundational flaws, hand positioning floors, vulnerable floors – where he takes his opponent for granted. Then AJ could cause some trouble. And then it goes back to what do I mean by taking his opponent for granted? Tyson Fury is a very intelligent-arrogant fighter. He pours his arrogance on guys, a lot of times he beats guys mentally. If you don't fall for that and you stick with your game plan and you're willing to run through him the right way, not just from an emotional standpoint, but the right way. Then I believe you could give him trouble. The right way to handle him is attacking his mistakes.
Fury is more vulnerable than he's ever been – you're crazy to underestimate Anthony Joshua
"It's a tough job for AJ but in my opinion, he has a pedigree, he has a gold medal, he has ability. AJ can punch, he's a strong kid. He's big. It can almost come across, when you think about all those attributes, like, hold up, this is Anthony Joshua. Let's back up. How could he not win? I think personally the people who are giving him no shot at all are crazy. I think people who are giving AJ no shot at all – that's blasphemous. I do not agree with that at all."
"Very tough fight and when I say tough, I mean very tough to decide who I think will win. And most people will say, well, how is it tough? Fury's been on fire. He's been smoking everybody. Yeah, but he's also more vulnerable than he's ever been. Fury also gives you an opportunity to hit him more than he ever did too, and in the heavyweight division, I just can't have full confidence in someone that gives you an opportunity to hit them, I just can't do that. He said it himself, he's very vulnerable. He's very vulnerable as a fighter. But that's what makes him exciting as well."
Tyson Fury's unbeaten streak can only last so long
"By him giving you opportunities, that's him taking the opposition for granted. That's why my prediction was, you know, I thought we would knock him out inside of five rounds. And my prediction almost came true because in the fourth round we had him down. That happened because tell me one time you've ever seen Tyson Fury walk to somebody straight with his hands like this and just walk forward with his shoulder squared? It doesn't happen. But when he thinks he's in control, he comes out of himself and becomes a little bit more vulnerable. And I believed that if he did that with us, Deontay would be able to strike and keep him down. It almost happened. It didn't, credit to Fury. He got up and continued on to do what he did. But I believe you give someone like Anthony Joshua or Deontay Wilder opportunities to hit you over and over and over and over, I think that run can only last so long. But then again, this is Tyson Fury. He's made us all wrong so many times. And that's the exciting part about him as well."