Does your team's league position have an influence on your drinking habits?
In an exclusive poll run by Fair Betting Sites, all 20 Premier Leagues fan club subReddits were surveyed on how many pints they drink on game days.
Out of the 17,989 responses, Chelsea fans, who currently see their side struggling in 10th, admit to having on average 6 pints – on any given game day. 
If you would like to use the exclusive poll data in this article, you must credit & link to Fair Betting Sites as the original source of the data.
Premier League Pints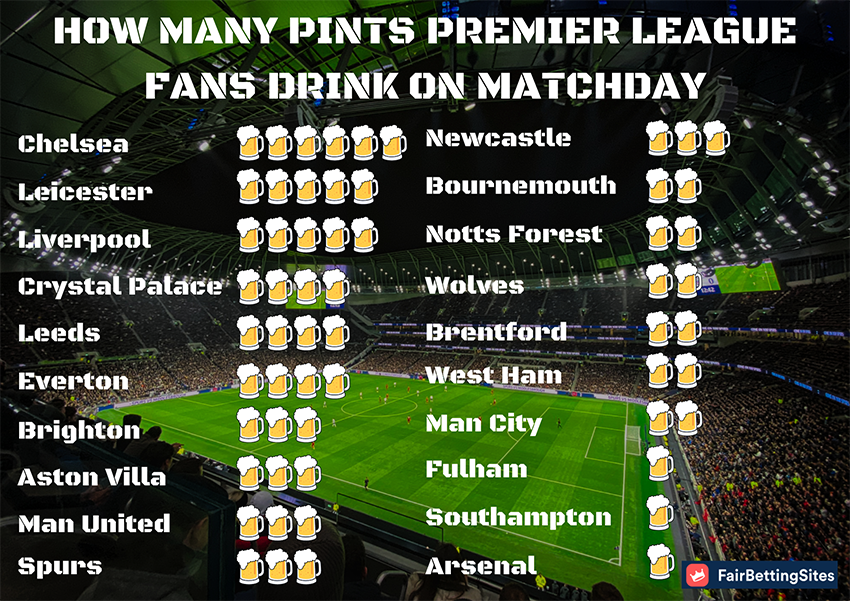 Todd Boehly has spent over £500 million since taking over the Blues, who have failed to win in their last six outings in all competitions and sit 10th in the Premier League.
The likes of Brentford, Brighton and Fulham are all having significantly better seasons than Chelsea and their fanbases drink significantly less pints,  each game day.
It seems Leicester City's fans are also using alcohol as a coping mechanism with 5 pints per game on average. Brendan Rodgers' side are just three points adrift the relegation zone after suffering consecutive league defeats.
Liverpool fans also average 5 pints and are in a similar boat to Chelsea, enduring a difficult season with very little progress and are at risk of losing their place in the Champions League next season.
The two league leaders, Manchester City and Arsenal, average just two and one pints per game day respectively – proving life as a supporter of a successful football team is less stressful and therefore requires less alcohol.
---
Methodology: Fans were asked how many pints of beer they would have on the day their team were playing, in the current 2022/23 season.
Polled: 17,989 PL club supporters via their respective PL fan forums.